After years of writing, months of editing & rewrites, and weeks of hammering out an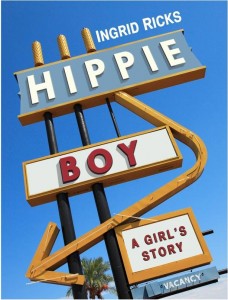 amazing cover with my ultra-talented designer friend Juli Saeger Russell, HIPPIE BOY: A Girls' Story has finally launched as an ebook on Amazon!
Here's a short overview:
What would you do if your Mormon stepfather pinned you down and tried to cast Satan out of you? For thirteen-year-old Ingrid, the answer is simple: RUN.
For years Ingrid has begged her free-wheeling dad to let her join him on the road as a tool-selling vagabond to escape the suffocating poverty and religion at home. When her devout Mormon mother married Earl―a homeless Vietnam vet who exploits the religion's male-dominated culture to oppress and abuse her family―she finally gets her wish. Ingrid spends the next few summers living on the margins while hustling tools with her dad and his slimy, revolving sales crew. He becomes her lifeline and escape from Earl. But when he's arrested, she learns the lesson that will change her life: she can't look to others to save her; she has to save herself.
HIPPIE BOY is now available on Amazon for $2.99. To purchase it, click here. And please help me spread the word. Thank you!!!
Best,
Ingrid